Previous Post:
The Milano Tuscan Fireplace Mantel
&nbsp Next Post:
Solid French marble mantel
When you look at the elegant French Limestone Mantel , what emotions does it stir up in you? I don't know about you, but this product does something amazingly good in me. It stirs up excitement and passion in me. This is an elegantly designed fireplace. I appreciate great works of art. The fireplace is crafted from French limestone. You can Google about this raw material. Once done you will appreciate its value in your custom built home.
This French Limestone Mantel  in beige is very attractive. It brings inside your custom built home a touch of natural stone – just right for lovers of nature. Are you one?  If you are in love with nature, then at this point you need to keep your emotions in check. The magnificent hand crafted designs on the limestone only accentuate a beauty provided by nature. Expertly crafted by the best craftsmen in the continent, the stone's quality brings out every detail clearly.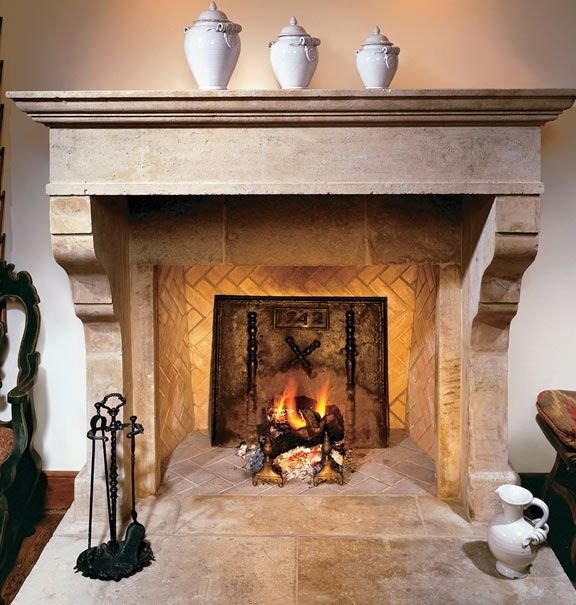 The inner hearth is designed to keep the ashes right there, where they ought to be. When the ashes are deposited from the burning of logs, all the ashes deposited don't find their way around your home. The inner hearth does its job perfectly. You will only need to occasionally sweep the ashes once the embers die down. The Stuart is paired with built in storage spaces. That is why it naturally becomes the anchor point in the room in which it is installed.
This fireplace comes with an extensive footing capable of support its great weight. The footing ensures that there is no shifting and cracking. Shifting and cracking tend to allow the fire to escape to combustibles in the room. You can rest easy with this elegant fireplace in your home – you don't need to keep an eye for signs of movement.
The strong french limestone butt walls on the other hand provide an indestructible perimeter. One thing that is certainly guaranteed by the elegant Stuart is durability. I almost forget, the elegant French Limestone Mantel  will enhance your luxury home to create a chic and elegant indoor seating area. This piece will blend seamlessly with your existing décor.
This stylish fireplace is available in all sizes and it can be shaped and styled to suit your needs and tastes. There is a broad array of things that we can do to customize this masterpiece just for you. For more information about the elegant Stuart fireplace, please contact our design experts at 1-888-272-0630.