Previous Post:
Cast, Marble and French Limestone Fireplace Mantel
&nbsp Next Post:
Athena French Limestone Fireplace Mantel With Over
Detail is what every custom built house could use, so why not yours. With this elegantly designed custom built Italian limestone fireplace mantel, you're house will be fit for a king.  Beautiful precisely hand carved  designs will be the centerpiece of any custom built mansion.  A great piece for living rooms and family rooms implying a cozy and warm feeling into any space.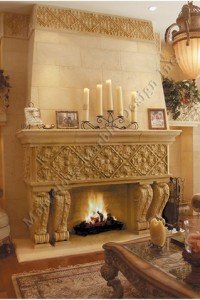 With a double corbel supporting the weight of the mantelpiece adding extra beauty and strength, your fireplace mantel will look luxurious and stand strong. Above the fireplace mantel, there is a tile design canopy that can either reach to your ceiling or not.  Above the gorgeous canopy there is a crown molding that can also be placed all along your custom built mansion, making all your rooms and center pieces mix together to fit well. For further information on this beautiful piece please visit us at www.marvelousmarbledesign.com or call us toll free at 1-888-272-0630.