Previous Post:
Athena French Limestone Fireplace Mantel With Over
&nbsp Next Post:
Antique Marble Fireplace Mantel in Manhattan New York
Antique 302 is a French Marble mantle that has very precise and meticulous carvings. These carvings are done by our expert carvers at our masonry.  This mantel can be custom made to best fit any professionally designed room in your custom built mansion. This piece is a replica of a very famous and old medieval French piece.  This mantel has very beautiful flowers and seashells on the corbels as well a scroll design.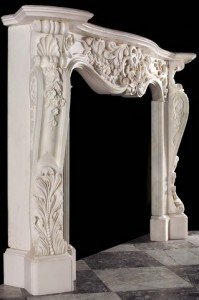 This mantel piece is hollow and sturdy. A great addition to this piece would be an over mantle. Antique 302 can also be placed on a raised hearth or a flat hearth. A raised hearth can also be used as a small bench on cold nights. This piece will look great in a bedroom, living room, family room, great room or an entrance. For further information about this piece, please visit our website at www.marvelousmarbledesign.com or call us at 1-888-272-0630.